Rise and shine! It's Sunday :-) Today I am sharing my Weekly Wishes (& linking up with
Melyssa
on Monday) and sharing my Grad-itude (& linking up with
Erika
on Wednesday)
To be honest - I sucked at the health part. I was good about portions but I did not PREP A THING to take for lunches. I did okay though - with portion control. Next week I'll have my step-son so it'll probably go smoother (always more responsible when we have him every other week).
I could not be any more pleased with my blog this week. It was simply an awesome week. I finally started selling my
sponsorships
(
25% off with code: AUG25
), and have my first two sponsors (see sidebar!). Also - everyone really enjoyed the printables from Friday which is fantabulous!!
@kelegirl6 you are a blog promoting sponsorship QUEEN!!! i am in awe of your amazing skills! SERIOUSLY! thanks so much for all the love!!!
— Erika (@chimerikal) August 25, 2013
And then there is this little tweet that MADE MY DAYYYYYY!!!!!
Lastly, today I received an email for an AMAZING opportunity to further spread my passion and message to people and I am so honored that I was even considered. Hopefully I'll be able to share it soon!
The 'ol consulting business took a little back burner this week. Not to fret though - I just need to take some pictures for the home page and kinda need to be "on location" for that.
-- This Week's Weekly Wish?
You know the drill! Keep it
STUPID SIMPLE.
It takes
4 weeks
(maybe 21 days, I forget)
back to four weeks (plus another for the health one, or do I have to start all over since I took this one off?) to solidify a habit. And so my weekly wishes (for the third week in a row) are remaining the same. I'm going to keep on keepin' on and nothing is going to stop me!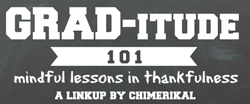 --
Last week's Grad-itutde:
As I kinda mentioned up above things could not have gone any better than it did this week for the blog. And for that I am truly thankful. Friday - all the love that was spread with people retweeting my sponsor tweets or retweeting my blog posts - even tweeting them on their own accord. It was really an awesome experience and I am so elated by it. It was really nice to know that one of my mentors (she doesn't know it though, Melyssa)
actually went through my blog and pick out the things she did for my sponsor post, as well as tweet about my series on her twitter. And then
Melissa Stewart
(what's up with the Melyssa's?) who I have looked up to for ages on Twitter (I think I sent her a compliment just once and she thanked me; but I stalk her and favorite all her tweets to read later) randomly posts my Finding Your Passion: Your Story post just about flabbergasted me! What a humbling experience. This week - I want to practice giving that back. Just out of the blue tweets sending love just because!
Have a good week yall!! Come back tomorrow for a continuation of the Living Your Passionate Life series (we're going to talk about being in the moment!) See you then.