Fa la la la la, la la la la! It is about to get very MERRY around here! Yep, Christmas is right around the corner, and I think doing an ORNAMENT EXCHANGE is the perfect way to celebrate! Though Thanksgiving hasn't come yet, in order to have a successful ornament exchange (ie: receiving the ornament before Christmas, so that you can enjoy it on your tree), we're starting now. I've teamed up with
Kenzie from Chasing Happy
,
Amber from Say Yes to Joy
and
Lisa from Love To Go
to bring you the Merry Mail Ornament Exchange.

Here's how it works:
Sign up by Friday, November 8, 2013, for this cheery and bright ornament party and we will group you over the weekend with no more than 4 to a group. On Monday, November 11th we will announce the pairings. Then you will have time to get to know each other through email, social media and blogs; create your ornaments and send them off. Not only will you be able to receive 3 new ornaments for your tree, but also make 3 new friends during this joyous season. How cool is that?
You will need to send off your ornaments by December 2nd so that they can get to their recipients before Christmas.
Are you ready to get your MERRY MAIL on??
3. Share some social media love with the #merrymail hashtag.

Grab the button below!!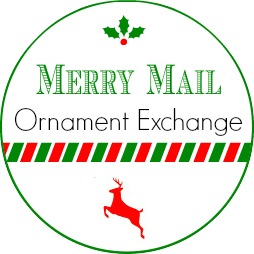 …